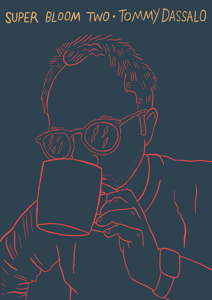 $

7.00
Hot on the heels of a sold out first issue, SUPER BLOOM is back on it's bullshit!
This year, I tried to get into the habit of heading to a different café every morning and drawing a bunch of comics. Pretty soon I realised that all of the comics were either about me stuffing my face or roasting the people I was eavesdropping on.
SUPER BLOOM TWO: a new collection of comics about communal tables, Red Rooster, public toilets, hash browns, and heaps more from the bravest and most downright attractive illustrator working today.
16 pages, all in full golorious colour.