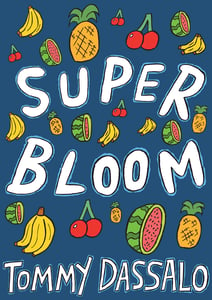 $

7.00
Earlier this year, I visited Thailand, Singapore and Vietnam. For half of the trip I was with my girlfriend and for the other half I was by myself. At night, I would sit at a bar or restaurant, do some drawings about things I'd seen or experienced that day and do my best to make them funny.
SUPER BLOOM is a collection of these drawings. I tried to force myself to not worry about making it perfect. My challenge to myself was to get the drawings cleaned up and coloured and get it into the world as quickly as I could, while the memories were still fresh.
Anyway, it's done now and I'm really happy with it and excited for people to see it.
It's 12 pages plus a cover (so 16 drawings all up) A5, all in full colour. I hope you enjoy it.
BONUS! The first batch of orders will come with a bonus mini-poster and thank you note.